Setup An Automated Online Store: Shopify Review
Want to sell products to 2 billion+ online consumers but don't know where to start?
Been offered crazy 'all-over-the-shop' quotes for a basic website with a PayPal button?
Worried about security? For your customers and for you?
Been thinking that getting a website up and running is one thing but getting it found by customers is a completely different ballgame?
Wondering how on earth to do secure customer payment, storage, packing, labelling, inventory, shipping, customer order tracking, returns, etc…?
Your budget is, shall we say, limited? And, you do not want to be spending much time marketing and none on logistics?
You could easily spend a small fortune and a ton of time trying to do all this stuff, and still land up with little or no sales to show for it. I've seen it so many times.
There are more 600 so-called online shopping cart type solutions out there. They claim to do anything from hook you up to a payment gateway like PayPal, to automating virtually the whole store operation.
I trawled the Web, read the reviews, tried out the best, and landed on … Shopify. A full-service e-commerce platform, Shopify was launched in 2006 by Jaded Pixel Technologies Inc. out of Ottawa, Canada.
Shopify are running a Build-A-Business contest and last year's winner was DODOcase. They use traditional book binding techniques to make beautiful iPad and other gadget cases:
There are only a few days left to enter for this year's contest but if you're really really quick the top prize is $100,000 plus a trip to New York where Seth Godin will cook you lunch, you'll have an hour's 1 on 1 with Gary Vaynerchuck, and you'll have dinner with Tim Ferriss in California. It doesn't get better than that.
My research has found Shopify to be the one that stands out. It lets you quickly and inexpensively setup and run an automated front-to-back store, securely hosted, with built-in marketing & analytics tools, design & feature flexibility, great service & support, and it's a delight to use.
Just this Monday, Shopify made a press release announcing $15 million series B funding:
Tobias Lütke, Shopify's CEO and co-founder, launched the company in 2006 after he discovered how difficult it was to create a professional online store. Today, over 15,000 active online stores in 80 countries are powered by Shopify. Individuals, entrepreneurs, and businesses use Shopify to setup and power their online stores. Shopify's product is known for its focus on ease of use, beautiful store designs, and scalability.

The overwhelming majority of businesses are not yet selling online because the tools available have historically been complex and expensive," said Bessemer Venture Partners' Trevor Oelschig. "Shopify is working to change this by building beautiful products that are easy for businesses to use."

Shopify's merchants span from budding entrepreneurs to major brands like Angry Birds, General Electric, Tata, Tesla Motors, Amnesty International, DODOcase, CrossFit, Evisu, LMFAO, Beastie Boys, and The Foo Fighters. "We looked at a number of different ecommerce options, but Shopify made the most sense," said Niklas Kari, Angry Birds' Head of Retail, "We had strong recommendations from other partners, and setting up the store was easy." Rovio recently announced they have sold over 2 million Angry Birds plush toys."
'A shop in minutes, a business for life'
…that's the Shopify tagline. I decided to test it out – well, the first part anyway.
I was able to setup a basic shop inside 30 minutes. I defined two collections, each containing 3 products. You can easily define product descriptions, images, weight, shipping, pricing and more for each product. I setup payment options and had a slick fully-functioning website with shop front, Catalog, Blog and About Us pages all ready to go.
Designing your store
Out of the box, you get a bunch of pages which you can fill-out, remove or customise in anyway you want. Add your own pages to include whatever content you like. The overall 'user experience' to set all this up is simple, elegant and enjoyable to use.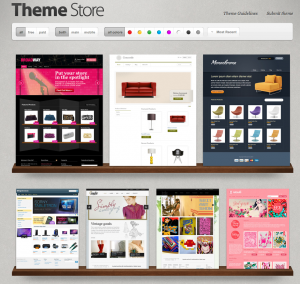 To instantly set a distinctive overall look-and-feel for your site, just pick a 'theme'. There are well over a hundred themes to choose from – both free and paid.
The paid themes rarely cost more than $100. Here's a screenshot of some of the available themes:
If you're not 100% happy with any of the themes, you've several options:
Choose one that's closest to what you want, and customise it. I played with this myself and as a non-Designer I found it extremely easy.
Create your own using Shopify's own markup language with HTML and CSS. There's a forum, a Wiki and well laid out articles to help with this.
Get a friendly designer to do this for you, there are over a hundred listed on the Shopify site.
Use your own domain
You can use your own or buy a domain name direct from Shopify. They'll register it and set it up for you. So for example if you want yourstore.com then Shopify will automatically link your store to http://www.yourstore.com, http://yourstore.com & http://shop.yourstore.com
Marketing your store
While getting your store setup online is a great start, it's a complete waste of time unless customers can find you. And, we want to do this without spending a load of time on it. Shopify helps in several ways.
Run your own promotions offering customised coupon & discount codes. Define codes by the promotion's starting and ending date, and create them by value or percentage discounts. Or specify that a code can only be used a limited number of times, for a minimum order amount, or is only valid during a certain date range.
You get everything you need to start a blog on the store. Just enter your content and keep it coming. This will take some of your time but is a really good idea because it adds dynamic content to your site, shows that you're human, that you know your stuff, builds trust, and crucially, makes your site more findable on search engines like Google and Bing. I strongly recommend you do this. Just remove the page if not.
Build a mailing list of interested and prospective customers. An excellent marketing tool so long as you treat your 'list' with respect and don't over-sell to them. Use it instead to send them helpful, inspiring or amusing posts from your blog.
List your products with Google Product Search. This price comparison service allows consumers to evaluate products, prices, and descriptions through Google. Including your products here is essential and free. Do it.
Easily organise and search a list of your customers. Use this to form the basis of marketing campaigns. For example, target the highest or lowest spenders, or filter by location.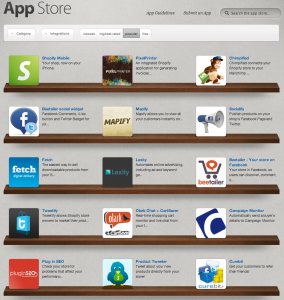 Google Website Optimizer is fully integrated into your shop back-end. This allows you to experiment with different web designs and get feedback from actual users. It's free too. This is a great way to improve the conversion rate for your site, i.e. the percentage of visitors who end up buying your products.
Google Analytics is fully integrated. This excellent free web traffic analysis tool is extremely easy to setup from within your Shopify account. This makes tracking the results of your marketing campaigns that much easier. I use it all the time.
There are tons of third-party (free & paid) apps which are designed to help you promote and market your business and it's products. By integrating it with social networking sites like Facebook, Twitter and Google Plus for example.
Adding more capability to your store
You're not limited to the features provided by Shopify themselves – good as they are. They've cleverly set things up so that any third-party can build new features and hook up with other services.
New apps are being created and added to the Shopify App Store all the time. Here's a snapshot showing some of the most popular:
If you want to do something on your store that's not standard or done by any of the apps, there's a Job Board for developer expertise. Or, there's an API and forum for those who want to do it themselves.
Handling taxes
Setup taxes to be included or excluded in product prices, or whether they're charged on shipping rates. Define tax rates by country & region.
Checkout & payment
Use secure industry standard payment gateways including PayPal, major credit cards & Google Checkout. You can also offer your customers custom payment options including COD, Money Order or bank deposit. All this is point and click stuff. Of course, you need to have the relevant accounts with PayPal or whoever but that's what you'd expect right?
Setup order processing options for automatically authorising & charging the buyer's credit card, shipping orders' line items, & Email Marketing collection.
Also, easily supply your Refund, Privacy and Terms of Service wording. Just type or copy them in.
Shipping
Setup shipping rates by weight, by price and by country. Real-time carrier-calculated shipping rates can be provided to your customers.
Fulfillment services
This is the part that lets you automate the back-end of your business. The part that deals with the manual picking, packing, storing & shipping of your products. You could do all of this yourself of course, especially if very small scale and just starting out. But this can quickly become a huge manual and costly bottleneck. So-called drop-shippers or fulfilment service providers have sprung-up to take care of all these logistics. If you want to use one then you'll need to setup an account with one of them separately.
Shopify lets you easily hook-up external shipping services which provide order fulfilment, tracking, real-time inventory and other shipping related services. Currently Shopify directly integrates with three providers:
Alternatively, you can use a custom service. In this case an email is generated and sent for each order: to you or another drop-shipper. This email contains all the shipping information needed to fulfil the order.
Security & online hosting
Shopify uses industry best-practise 128 bit SSL encryption to protect private data like customer information and order data.
Shopify is Payment Card Industry Data Security (PCI-DSS) compliant. The PCI-DSS standard was created by the joint effort of the payment brands, including Visa, Mastercard, American Express and Discover, to ensure the secure handling of credit card information by merchants and service providers.
Shopify is so-called Software as a Service (SaaS). This means that Shopify, not you the store owner, host your online store and all it's content. They take care of all upgrades and back-ups – at no extra cost.
Unlike many other Ecommerce providers, all price plans offer unlimited bandwidth. So, if there is a spike in traffic to your site there will not be an additional charge.
Customer & technical support
This is pretty impressive from what I experienced and could see:
Phone support
Good online documentation with tutorials & annotated diagrams – on the Wiki
Active forums – on design, 'just launched', marketing, apps, job board & general
Email support – tracked via tickets
Lots of well written FAQs in the form of how-to articles – searchable too
Pricing
Shopify make their pricing really clear. (There's no excuse for so many other sites that seem to hide their prices.) There are two types of charges:
Monthly plan charges start at $29 and up to $179. You can upgrade or downgrade plans at any time at no cost.
A transaction fee ranging from 2.0% for the lowest monthly plan and 0% for the highest. This makes much more sense than many of their competitors who charge by site traffic volume. Here, you pay in line with how much actual business you do.
There are no setup fees.
The starting plan, $29 per month, allows for 100 unique products (SKUs) & 100 MB of storage.
Discount codes start with the $59 plan.
Real-time carrier shipping start with the $99 plan.
Free 30 day trial & no long-term tie-ins
You can test Shopify for 30 days risk-free. You do need a credit card to sign-up but they guarantee you will not be charged if you cancel within 30 days of signing up.
Having played with it for a few days, I'd say 30 days is plenty of time to decide whether Shopify is right for you.
Click here to start your free trial
Conclusion
There are very few products and services that Muse Stories will link its name with but Shopify is one of them. It offers the opportunity for a business owner to quickly and easily automate what is traditionally a clunky, manually-intensive business model, to reach 2 billion+ potential customers, at a price that most small businesses and start ups can afford. And that is remarkable in my opinion.
Muse Stories has conducted the research and written-up this review entirely independently and free of any influence by any third-party in general and of Jaded Pixel Technologies Inc in particular. Muse Stories is a referral partner for Shopify but this is no way affects the integrity of this review, nor your relationship with Shopify. Muse Stories enters into selected referral (or affiliate) programs so as to help support this site – and is always upfront about it.
What do you think?
Have you tried Shopify yet? I'd love to know how you get on…
Do you know something better? If so, what is it and why?