Lessons on "Intimacy" from India's Biggest Band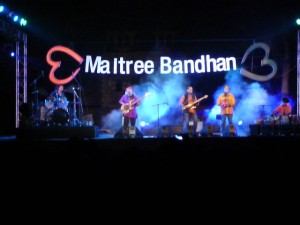 I was lucky enough to catch India's leading contemporary fusion rock band Indian Ocean perform live this week in New Delhi. The last time I was in India was 12 years ago!
Formed in 1990, music critics have described the band's music as "Indo-rock fusion with jazz-spiced rhythms that integrates shlokas, sufism, environmentalism, mythology and revolution."
Indian Ocean describe themselves as independent musicians in the sense that they make their own music and perform only their own music. In India, this is a big deal where so much music is Bollywood-inspired, religious, traditional or covers.
Album success
Their first album in 1993 sold over 40,000 copies and became the biggest selling record by an Indian band at the time. They've since performed in the USA, UK, Australia, New Zealand and Japan.
Their 2006 album Desert Rain, the first live album released by any Indian band, went on to become No. 2 on the iTunes UK World Music chart.
Giving it away
The band went on to produce another three albums before they decided to reduce the distance between the band and its listeners and free themselves from having to "negotiate contracts with record companies and fighting over copyright issues, worries about bad distribution, albums not being available at different places and so on."
As a result, the band gave away their latest album 16/330 Khajoor Road – for free.
They say "…we make almost all our income playing live shows and composing music for films etc., so it's no great hardship for us to give up this amount (royalties). We also hope that this becomes a means for other artists in India to reach out to their listening public."
Personalized music
Indian Ocean are one of several leading bands and artists behind the world's first personalized music service, Divine Raaga Project (DRP).
The initiative was setup to let you, your college, business, cause, or event to request one of these great musicians to create a unique and original piece of music – the way you want it.
This is a fascinating development and I'm intrigued to see how it goes.
The lesson…for artists & entrepreneurs
So, we have a great rock band who are now doing something that musicians do not traditionally do: They're giving away their music over the internet, for free.
What's the effect of doing this? It spreads their music faster and further than ever before. No friction. [By the way, the concert I went to in Delhi was free. It was a one-off India/Bangladesh cultural get-together. But the effect will have been to further spread the music.]
How do they make an income? By selling intimacy. For example:
They sell access to their live performances.
They sell original, personalized music – for you, on demand.
And, as a by-product they're able to:
Compose music for films.
Sell sponsorship.
Seth Godin (leading marketer) & Derek Sivers (CDBaby founder) discuss how for musicians in the 21st century:
The challenge is to be great
The opportunity is to spread the music and to sell intimacy
Indian Ocean (for me and many others) are great artists. They are experimenting in ways to spread their art.  As a result, they are opening up ever more opportunities to benefit financially. By selling intimacy.
There's a lesson here for all artists & entrepreneurs.
Interview with the band
Here's an interesting video interview of the band in their home-town, Delhi. They talk about how the city is changing, what independent music means to them, and the nature of Indian Ocean the band.
What do you think? Leave a comment below.
Sign-up below to get more articles like this one by email, for free.